OSWEGO — The Oswego Fire Department has bid a happy retirement to Lt. Sean O'Gorman after over 20 years of service to the community.
O'Gorman retired from the force April 28, after completing his final shift with the department he served since June 2000. 
O'Gorman's skills with the department ranged far and wide. He was an advanced EMT-Medic, rescue diver and experienced in swift water rescue — a qualification that helped save the lives of two young girls in North Carolina — the department noted on a farewell post on social media.
There wasn't much this firefighter couldn't do, or wouldn't do. That extended into public education as well, and making sure that the firefighters of today were instilled with proper training and work ethic, something he hopes is left behind in his legacy at OFD.
"I think number one is just how to do the job, how to do the job with joy, realizing it's an honor to help people and to work hard, and to do it with joy and love," O' Gorman said.
His inclination to do the best work he can do never went unnoticed.
"Despite being a 20-plus year veteran, Lt. O'Gorman was always engaged right up until the day of his retirement," OFD Chief Randall Griffin said. "Lt. O'Gorman was not only participating in training, but leading by example for our newest firefighters."
O'Gorman's career began on one fateful day during a conversation with a firefighter and then the rest was history.
"When I owned a bagel shop at the time, I was hanging out with a guy who was a firefighter who said, 'Why don't you become a fireman? Take the test,'" O'Gorman said.
He started his training not soon after and worked his way through the various levels of achievement. O'Gorman first had to become EMT certified, and then become a medic. He said it was a two-year process before he was eligible to be hired. But, despite the countless hours, coursework and exams, O'Gorman found his place in the department, and also reaped the rewards.
"The greatest thing about the job for me was the ability to help people at their worst," O'Gorman said. "I had moments where I was walking down the street and there was a person that was in full arrest when I got there. It's a gift to serve people."
"I'm hoping his legacy will be his compassion he had for the public and his fellow firefighters," Griffin said of O'Gorman.
With such an extensive history of helping the community, one might ask what is in store for the retired firefighter. It doesn't come as a surprise it involves continuing to make the world a better place.
"I have a side business called O'Gorman's Wildlife Removal, and I think for now, I'm just going to focus on that, see how that goes and just play it by ear," O'Gorman said.
Now that firefighters like O'Gorman are moving on to different pastures, who can uphold that legacy is becoming difficult to find, with the retention and application rate not being what it used to.
This never used to be the case when the number of prospective recruits was higher. Kids were ready to suit up and serve the department. Transfers were not commonplace.
O'Gorman urged eligible members of the community to apply to become firefighters.
"It's a problem. Every fire department doesn't have enough candidates anymore," O'Gorman said. "Due to the lack of people wanting to become firemen, we've lost three new hires that went to another fire department."
O'Gorman mentioned there's one thing he'll miss the most: the camaraderie with the rest of his crew.
"Hanging out with the guys, I got to work with some really talented great guys," he said. "Just the talent level is off the charts."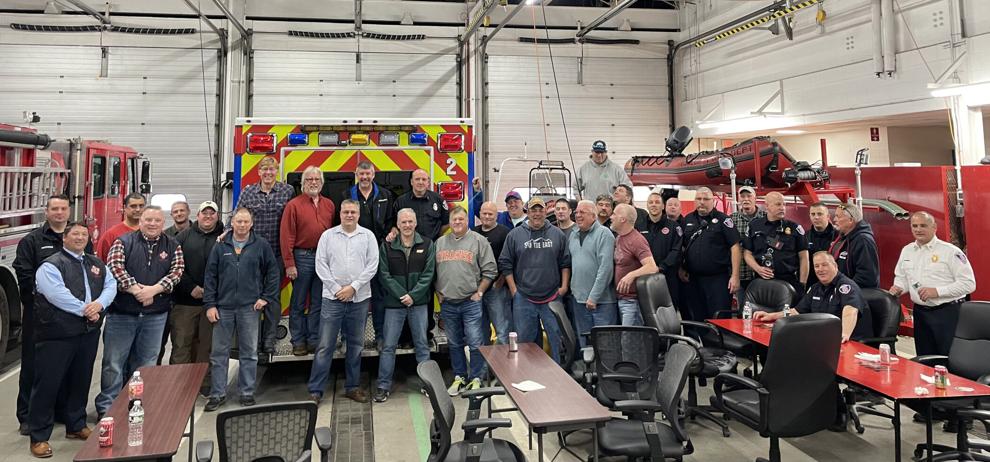 And for the former fire Lieutenant, it was an honor to watch his organization grow, from a hazmat crew to swift water rescue.
"I really watched (OFD) grow over 22 years into a much more diversified asset. It's a much more developed fire department, much more skilled than when I first got on," he said. "I'm proud of them."
To learn more about opportunities with Central New York fire departments, visit cs.ny.gov.