OSWEGO — Under a settlement agreement reached with advocacy group CNY Fair Housing and eight women, local landlord Doug Waterbury will pay the victims $400,000 and relinquish his right to manage rental properties.
Waterbury — who owns roughly 30 properties in the city of Oswego and several more throughout the county, along with the Sterling Renaissance Festival and Sylvan Beach Amusement Park — was accused in August 2017 of engaging in sex-for-rent schemes and harassing tenants over the course of several years.
The settlement reached Wednesday requires Waterbury to pay the eight victims a total of $400,000, and refrain from having any contact with tenants or prospective tenants. Waterbury is required to hire an independent property management company approved by CNY Fair Housing, which will monitor the properties.
CNY Fair Housing — a nonprofit agency that aims to eliminate housing discrimination — alleged Waterbury preyed "upon women who need low-rent housing" and aggressively pursued sexual favors from women seeking to rent apartments. The lawsuit accused Waterbury of making discriminatory statements on the basis of sex and retaliating against women who rejected his sexual advances.
According to CNY Fair Housing, Waterbury used women's vulnerability and his control over their housing to force them into unwanted sex acts.
Executive Director Sally Santangelo said CNY Fair Housing is pleased to have reached a settlement that gets Waterbury "out of the rental business."
Santangelo said the organization is committed to holding accountable anyone who subjects women to sexual harassment or violates a woman's right to feel safe in her own home.
"We want to make it clear to housing providers that if you engage in sexual harassment of tenants, we will do everything we can to stop you and get you out of this business," she said.
Santangelo said the Waterbury settlement speaks to the impact the women have had in their bravery coming forward to tell their stories. Not only did the settlement address their concerns, she said, but would help many more women moving forward in a way similar to what has been seen with the national #MeToo movement.
"We're certainly in a different era now — I hope we are in a different era now — where allegations like this will not be tolerated," Santangelo said. "It is difficult to put yourself out there in these cases, so it certainly highlights the need to listen, to believe women."
Oswego Mayor Billy Barlow, who has pushed for stronger code enforcement and adopted a new zoning code since taking office, applauded the women who had the courage to come forward, CNY Fair Housing for helping them and the reporters at The Palladium-Times for "digging deep and sharing the entire story."
Barlow said the city would continue to improve the code enforcement program, stand up for tenant's rights and hold landlords accountable for the condition of their properties and treatment of tenants.
"Through our legislation, (housing) reforms and code enforcement strategies, we've raised the standard of living conditions in our community and offered tenants more protection in every way," the mayor said. "We will continue to do better to ensure situations like this are prevented in the future."
The CNY Fair Housing lawsuit claimed Waterbury created a pervasive and hostile environment for women in desperate need of housing between 2012 and 2017. The initial lawsuit alleged the landlord made sexual contact and/or offers of sex in exchange for rent, and an updated filing in November 2017 added two women to the complaint and included allegations of sexual assault.
In interviews with The Palladium-Times, more than a dozen women said Waterbury propositioned them during apartment showings or while they were his tenants in allegations dating back to the 1980s. A series of police reports obtained by The Palladium-Times contained allegations against Waterbury similar to claims in the lawsuit.
Santangelo previously noted CNY Fair Housing spoke with more than 40 women throughout their investigation of Waterbury, adding she wouldn't be surprised if there are more people with similar experiences.
Santangelo said one of the "particularly disturbing" aspects of the case was how many people seem to have known about Waterbury's alleged actions for in some cases years prior to any action being taken.
"While there were rumors for a long time and people, others perhaps, had known about this, I'm proud of the fact we took action very quickly upon hearing about this," said Santangelo, noting within several months of hearing about Waterbury's alleged actions, the organization filed a complaint. "After so long with women reporting this and no action being taken, I certainly credit my staff for their work in investigating this and putting together the case in what is a relatively short amount of time."
Barlow said the Waterbury case demonstrates the importance and benefits of a strong code enforcement office. He noted some individuals thought the city's 2016 action to condemn and vacate Waterbury-owned rental properties was too aggressive and drastic.
"We now see the results from such actions and realize just how powerful strong code enforcement can be," the mayor said, noting the dominoes in the Waterbury case started to fall following the city's action to shutdown Waterbury's 129 W. 4th St. property. "I strongly believe our tough code enforcement actions are what initially blew the lid off this case, enlightened the community on what is taking place and changed the culture here in Oswego by showing tenants they have rights and they have an office at city hall that supports them."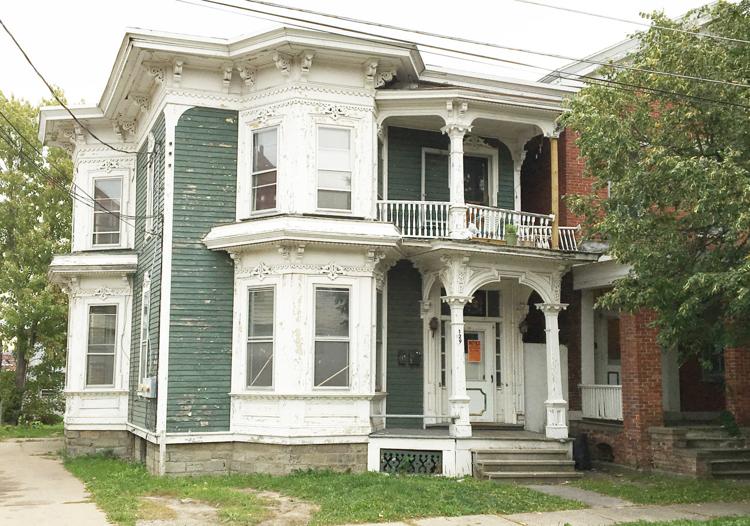 Under the settlement, Waterbury is prohibited from "having any involvement in the management or maintenance of rental housing properties," including posting advertisements, showing units, repairing occupied units, collecting rent or contacting directly or indirectly any tenant or prospective tenant.
"He's not allowed to operate, consult, manage, staff, participate in or work in the management of his properties," Santangelo said. "The independent management company will be responsible for any advertising, screening of tenants and the day-to-day management of the properties."
Effective immediately, the long-time landlord is also permanently prohibited from making contact with the eight women.
Waterbury is permanently barred from entering occupied rental properties, and within 120 days must hire an independent management company approved by CNY Fair Housing. Waterbury's wife is permitted to manage properties until an independent management company is hired.
Santangelo said under the agreement Waterbury is "only allowed to enter properties that are vacant," noting that extends to two-family properties in which one of the units is occupied and the other vacant. She said under those circumstances the landlord would not be permitted to enter either unit.
"That was a primary concern of ours and many of the women, was that he not be allowed to have contact with tenants moving forward," she said.
Any independent management company hired must document activities and allow CNY Fair Housing attorneys to inspect such records. If Waterbury wishes to terminate a property manager, a new one approved by CNY Fair Housing must be in place within 60 days.
The U.S. Department of Justice (DOJ) filed a separate lawsuit against Waterbury in April 2018, alleging the landlord subjected female tenants and prospective tenants to "egregious sexual harassment in violation of the Fair Housing Act." The DOJ allegations dated back to the 1990s, and named Waterbury, his wife and two affiliated companies as defendants.
This week's settlement does not include the DOJ lawsuit, in which a judge recently ordered the two parties to continue attempts to reach a settlement. The DOJ is scheduled to provide the judge with a status report in that case June 21.
All eight women named in the complaint against Waterbury were between the ages of 24 and 35 years old at the time of the filings. In the lawsuit, CNY Fair Housing claimed the eight plaintiffs were "just some of the many women who have fallen victim" to Waterbury's "pattern of brazen sexual harassment."
Waterbury made counter claims against some of the defendants, alleging four of the eight women collectively owed him more than $33,000 in unpaid rent. The court dismissed those claims in November 2018. 
Attorneys representing Waterbury did not return requests for comment Thursday.
In the updated November 2017 filing, a woman responded to a Craigslist advertisement in a search to secure housing for her family before winter. When the woman offered to perform repair services or cleaning work, Waterbury allegedly made it clear he would only make the apartment available for rent if she had sex with him, and "(the woman) reluctantly acquiesced to (his) sexual demands."
During the subsequent sexual act, the lawsuit alleges the woman "grew increasingly distressed and told (Waterbury) that she wanted him to stop." According to the complaint, Waterbury would not stop, and "continued to assault her and engage in sex acts with her against her will."
According to the suit, the woman began to avoid Waterbury and stopped giving in to his sexual demands, and the landlord allegedly started withholding housing-related services, including refusing to plow her driveway. The woman eventually moved out, but according to the lawsuit "suffered significant emotional distress as a direct result of (Waterbury's) unlawful harassment."
Earlier allegations included Waterbury coercing women into engaging in unwanted sexual acts, and described two women who said Waterbury conditioned rent on their agreement to have sex with him in 2015. According to CNY Fair Housing, both plaintiffs, desperate for housing, "reluctantly acquiesced to his demands in order to lease an apartment from him."
Sexual harassment is barred by the Fair Housing Act and considered by lawmakers to be discriminatory. Complaints can be filed even if the alleged victims acquiesced to sexual demands or experienced no loss of housing or funds, according to the U.S. Department of Housing and Urban Development (HUD).
Santangelo encouraged others who may be faced with housing discrimination and harassment to come forward. 
"We know that there are other housing providers out there who may be harassing tenants, and we want to make sure people can contact us and we'll do everything we can to help them," she said.