Editor's note: Below is the first entry in a Palladium-Times exclusive four-part series on how Oswego has fought an insidious viral foe before — and won. Through research and meticulous combing of historical records, reporter Jeremy Houghtaling pieces together the local voices reaching across more than a century.
OSWEGO — The headlines of the Oct. 2, 1918 edition of the Oswego Daily Palladium paint the grim picture.
"Epidemic Continues Its Heavy Toll" is scrawled atop the page next to "Obey Your Doctor's Orders!" Smaller headers include "Fifteen Dead in Syracuse," "Hospitals Crowded" and "Several Factories May Have to Close" as the Spanish flu raged through the city and nation as a whole.
Among all the bad news, "Y.M. Offers Rooms to Sick Soldiers" is in the middle of the page. The Oswego YMCA offered the use of the upper floor of its building on west First Street to accommodate 75 to 100 patients, "a truly patriotic offer on the part of the Y.M.C.A., as it is evident they are willing to do 'their bit for the boys.'"
With coronavirus fears gripping the world now in 2020, the Oswego YMCA is still doing what it can by canceling all regular services and enacting its Emergency Child Care Plan, which focuses on caring for the children of first responders and other essential workers so they can continue to do their jobs.
For Oswego YMCA Executive Director and CEO Kerrie Ann Webb, it's all about the YMCA and the community at large coming together in a time of need.
"It was second nature to step up when epidemics have come into play before. That's what we do. There's a community need, and you change," Webb said. "Your community need changes all the time. That's what it was then, taking care of soldiers or providing food or shelter. Now it's childcare. It's no different. You listen to what you're community is saying, you find what they need and you adapt."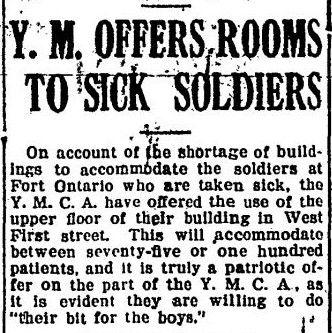 Even smaller acts of kindness didn't go unnoticed. In the Oct. 5, 1918 edition, the story was told of several women who came together to form a "Broth Corps" that would send food to soldiers who were sick at the U.S.A. General Hospital No. 5 at Fort Ontario.
With people looking to stop the spread of COVID-19 today, members of the community have come together to make and donate masks.
Oswego resident Libby Barker started a group called the Oswego MASKeteers on NextDoor app, which brings together neighbors from the Oswego area.
"I thought that there's got to be tons of people that sew around here in Oswego, so I posted it on NextDoor and it kind of blew up," Barker said. "So after we hit about like 20 or so comments on it, I made a group."
The group has more than a dozen members. Barker and her mother have donated more than 30 masks, while another woman in the group has made more than 60 masks to distribute to local physicians, nursing homes and others in need, Barker said.
Barker and the rest of the MASKeteers have shared various templates and YouTube videos of how to make masks in their group. The basic design is cotton with some padding in the middle and elastic to go around the ears.
"Supplies are kind of scarce, but we're making do with what we can get our hands on," Barker said.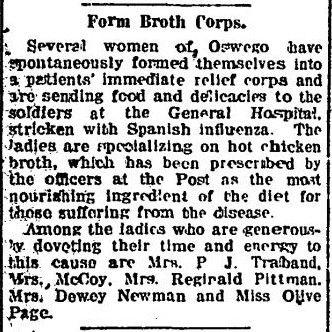 The heads of local government have stepped to the forefront in the tough times.
A message in the Oct. 12, 1918 edition of The Oswego Daily Palladium featured a message from Mayor John Fitzgibbons: "All men and women, young and old, who are willing to volunteer their services to aid in fighting the epidemic with which the city is now stricken, are urged to report at the Health Center at once. Automobiles are also needed. Duties will be assigned to volunteers by those in charge at the Health Center."
In 2020, Mayor Billy Barlow is finding ways to help people and small businesses in the community.
Barlow and the city started a website (cityofoswegoemergencyassistance.org) as a resource for people to find how to receive unemployment or SNAP benefits, find job applications, or locate food bank or food pantries.
The mayor also started a loan program for small businesses, sent out mailers to give details about restaurants that are still open despite the need for social distancing and found ways to open up more child care slots for doctors, nurses and other essential workers.
"I'd like to thank the businesses and the public for staying in their homes and staying off the streets, trying to minimize your contact," Barlow said in an address on Facebook earlier this week. "I appreciate everything the business community is doing and I understand your struggle, but please know that we're with you, we support you and we're constantly evaluating new ways to support our small businesses and appreciate the public's cooperation."