Editor's note: Below is the first entry in a Palladium-Times exclusive four-part series on how Oswego has fought an insidious viral foe before — and won. Through research and meticulous combing of historical records, reporter Jeremy Houghtaling pieces together the local voices reaching across more than a century.
OSWEGO — With stores across the nation running out of toilet paper due to coronavirus hysteria, the river's end bookstore saw an opportunity to poke fun.
The downtown Oswego shop wrote on the chalkboard out front "BOOKS the OTHER paper product worth stockpiling." With social distancing the new norm and people being directed to stay at home, the words ring true.
"We absolutely know that it's going to be an activity that will be embraced by many members of our community and other communities around the world," Owner Bill Reilly said of diving into a good book.
Businesses all over Oswego are forced to alter hours and operation or close outright in the wake of government guidelines to stop the spread of COVID-19.
The Port City's commercial sector 1918 dealt with the spread of the Spanish flu in various ways. Some used the Oswego Daily Palladium to announce temporary closures, while others looked to make a buck by proclaiming their product would help those affected by the virus.
The Oct. 1 edition talks about stores hard hit by the virus. "One of the large downtown stores only had four clerks report for duty today. Fifteen of their employees were ill."
The same edition said the Oswego Common Council meeting was halted by the epidemic. In 2020, the council is now planning to meet via teleconference.
"There seems to be no end to the inconvenience that the epidemic of Spanish influenza, which is raging in this city, has brought about," the article said. "It has hit practically every store and manufacturing place in town and has even spread to the members of the Common Council, disabling three of them so that the regular meeting of the council, which was to have been held last night, had to be called off and a special meeting will be called to take its place."
An Oct. 3 edition described shops "badly crippled" and railroad depots "practically closed down" with 300 men out of work.
Three days later, the Kline Brothers store ran an ad: "Owing to the Real Seriousness of the epidemic we deem it advisable for our store to stay closed for the next few days. If conditions improve we will open up Thursday. We ask our customers to accept this notice in the proper spirit. "
By mid-October, some businesses sought ways to integrate the influenza into their advertisements.
An ad for Best Ice Cream on Oct. 16 said it "excels as a diet" and proclaimed "It is the best all-around food obtainable for patients recovering from the Spanish influenza."
An ad on Nov. 1 read: "The Best General and Nerve Tonic, The one to put you on your feet after the influenza is Nux and Iron Compound Tonic Tablets. Thirty days treatment in a bottle. Get it from T.F. Hennessy, The Drug Man 198 West First Street."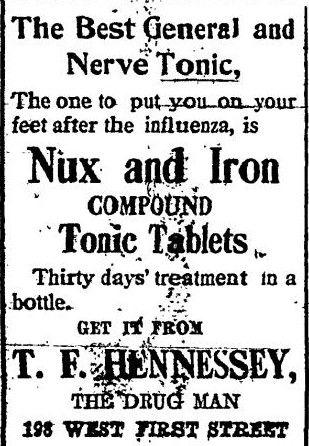 "Fruit-a-tives" ran an ad that looked like a regular newspaper article on Nov. 2 saying "The wonderful fruit medicine — greatly helps resist the disease."
While milk had been suggested in previous articles as a part of a healthy diet to stave off the flu, Horluck's Malted Milk ran a small ad in Dec. 20's edition saying it was good for "A recuperative diet in influenza" and "very digestible."
While they aren't claiming it will cure the coronavirus, river's end bookstore has seen an uptick in sales.
"You can spend a lot of time reading at home, so if people are home and need something to do, it's a great activity that we always promote," store manager Emil Christmann said.