FAIR HAVEN, N.Y. — U.S. Senator Chuck Schumer on Monday told a crowd of 70 weary local government officials and residents that it was time to reconsider Lake Ontario's water management plan and reinforce shoreline infrastructure in lakeside communities.
Schumer visited Fair Haven to speak about the repair of the waterfront infrastructure, but dozens of residents and local officials crashed the press conference to advocate for the repeal of Plan 2014 — the Lake Ontario water management plan put in to place in 2016 — and a return to the previous plan, Plan 1958-D, which was in place for more than 50 years.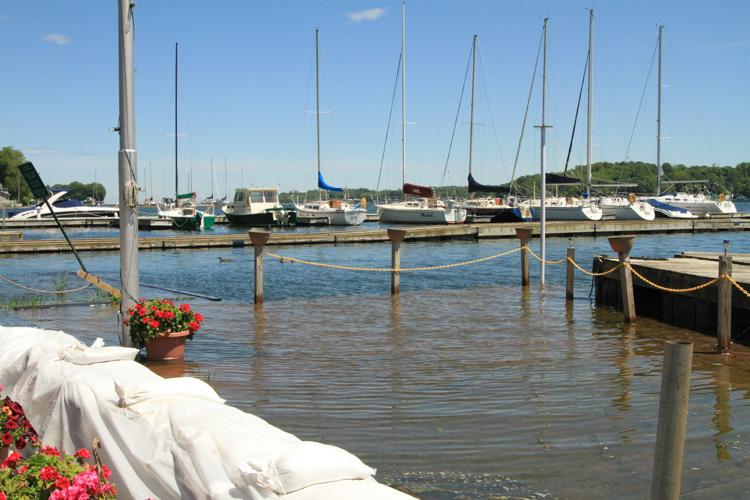 Lake Ontario water levels reached a 100-year high earlier this month, surpassing the previous record set in 2017, and causing incalculable damage to local businesses, the tourism economy and residential properties.
Standing before sandbags girding the encroaching Lake Ontario water at Turtle Cove Resort and Marina, Schumer said the situation is "particularly dire" in the village of Fair Haven and Little Sodus Bay, as critical shoreline infrastructure that protects valuable property has collapsed.
Sterling Town Supervisor June Smith said waterfront businesses are struggling due to recent flooding, and pointed out the brief tourism season is being shortened and property owners are in jeopardy of losing their homes.
"Two years of this kind of problem, with the winters we have, can send the businesses away and make others that want to come in very leery," Smith said, noting two homes in the town are "about ready to go into the lake" and have been condemned and several more could be cut off due to flooding roadways.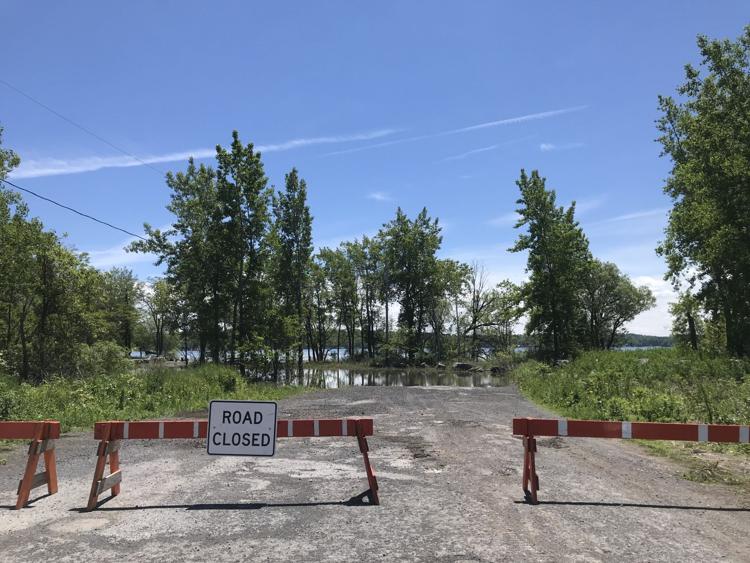 Kristy Fowler-Ritter, owner of Fowler's Marina and Pier 53, a restaurant, on the east side of Sodus Bay, said her businesses have been decimated in recent years due to lake levels rising and ineffectual efforts to mitigate flooding.
"We need some funding for our business because we're down 85 percent and our business operates six months out of the year because we're a marina and a restaurant," said Fowler-Ritter, who said she attended Monday's event to advocate for the repeal of Plan 2014. "People aren't putting boats in… I've had to lay off staff because we've had no invoicing to do."
Schumer said Monday "Plan 2014 is not working," and called on the International Joint Commission (IJC) — the Canadian-U.S. partnership that oversees shared waterways between the two nations and adopted Plan 2014 — to reexamine the plan "from top to bottom so it works" for New Yorkers.
"It is a mess and should not stand as it is," Schumer said. "I'm with you all the way. We've had two huge floods in three years so something is very wrong. We can't sit back and say 'we can't do anything.' That is unacceptable."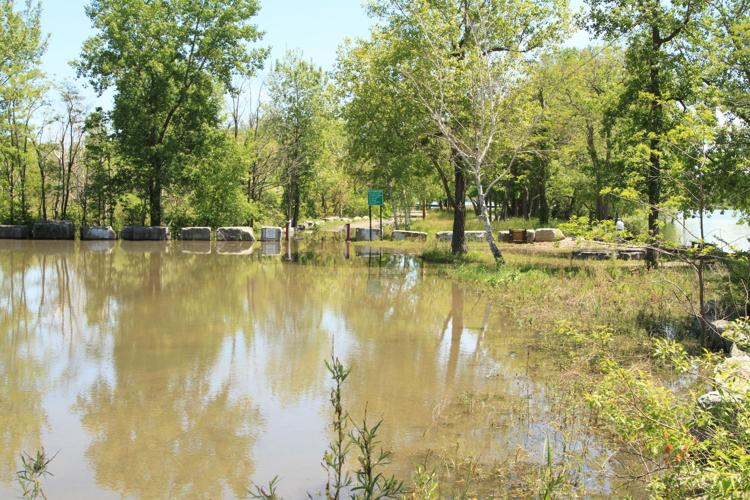 Fair Haven Mayor James Basile agreed with Schumer's statement that the IJC must reexamine Plan 2014, but said "in the meantime" local officials would like the plan to be repealed in favor of Plan 1958-D, receiving cheers from the crowd.
The IJC announced Monday the International Lake Ontario-St. Lawrence River Board (ILOSLRB), which specifically manages outflows from Lake Ontario through the Moses-Saunders Dam, is "actively exploring" moving above the current 367,270 cubic feet per second (cfs) flow, which was reached June 13, in an attempt to provide relief to shoreline stakeholders upstream from the dam.
Prior to increasing outflows, ILOSLRB officials are communicating with stakeholders to assess the impacts of additional flows and provide an opportunity to prepare for higher flows.
The 367,270 cfs flow is the maximum flow that was reached in 2017 and the maximum sustained flow on record, according to the IJC, which said despite the "very high" outflows, Lake Ontario is expected to remain high for the next several weeks.
IJC officials have maintained the high water levels are due to significant precipitation resulting in some of the highest net total supplies into Lake Ontario on record. 
"This is going to happen again next year unless something changes this fall," Village of Sodus Point Mayor Dave McDowell said. "They have to let the lake get much lower than they did last year. There is more water upstream than there's ever been. All the (Great) Lakes are reaching new highs, including Lake Ontario. All that water is coming our way and we have several more years of this and we need immediate relief."
Schumer — whose visit was initially aimed at announcing repairs to vital infrastructure in the village of Fair Haven, including to the West Pier and West Barrier Bar of Little Sodus Bay Harbor — said Lake Ontario flooding must be addressed short-, medium- and long-term.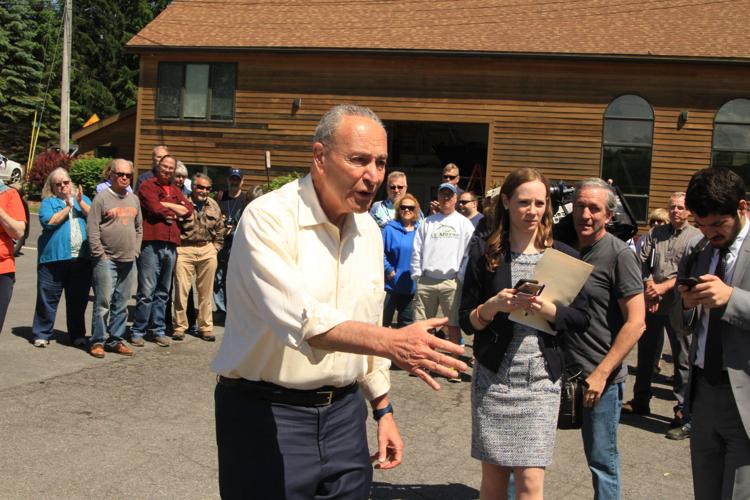 The most immediate concern remains the repairs of damaged infrastructure, he said, noting it's making the harbor more vulnerable to flooding.
"We want the Army Corps of Engineers to immediately come here and we're asking the Army Corps Emergency Operating and Maintenance Fund to repair these two piece of infrastructures (the West Pier and West Barrier Bar) ASAP," Schumer said, noting he submitted an official request for the work to be completed, "before the height of the tourist season."
Schumer said following the immediate repairs, Plan 2014 must be "totally revamped and changed" so it works for New Yorkers. The senate minority leader expressed gratitude for the dozens of lakeshore property owners who showed up to make their voices heard.
"I hear you and I'm on your side," Schumer said. "Plan 2014 ain't working... they have to reexamine it top to bottom, tear it apart and put a new plan in that works."
According to Basile, Army Corps personnel would be present in the area tomorrow to finalize plans for a temporary fix to the West Pier, with the work expected to be complete in July and August.
"With the senator's help, we'll get this permanent fix done and that'll start next year, we hope," Basile said Monday.
Basile said waterfront property owners have to wait and see the extent of damage to their property, adding people are unsure what to do in the meantime.
"People can't even find contractors to fix their retaining rooms," Basile said. "I get phone calls from people saying the contractors are three, four years out with the number of people contracting them."
Basile is incapable of assessing damage to his property from previous years because lake levels haven't decreased enough. But with previous damage now compounded by 2019 lake levels, he said it appears the erosion would be significant.
Long-term action must include the Army Corps completing the Great Lakes Coastal Resiliency Study, Schumer said, which would identify vulnerabilities and conduct feasibility studies for major protections "so this would never happen again even when the water gets high."
"The amount of money that would be spent to protect it would be more than worth it to prevent any future flooding," Schumer said of the costs to undertake the study, which is approximately $12 million, and build the necessary infrastructure.
Fair Haven Deputy Mayor Walter Krehling said the small village doesn't have the resources necessary to help residents overcome the flooding, and expressed optimism Schumer and others could provide assistance.
"This is the worst it's ever been and I've been here over 50 years," Krehling said, noting local businesses are "devastated."
Schumer noted the flood damage would be declared a disaster, opening the door for funding from the Federal Emergency Management Agency (FEMA) and Small Business Administration (SBA).
"There are dollars from both the SBA and FEMA for homeowners, businesses and for towns and villages," Schumer said, asking individuals and businesses to contact his Syracuse office for assistance and to express concerns.