OSWEGO — The Oswego Fire Department is one of the region's leaders in providing cardiac arrest aid, almost tripling the national average for survival rate. 
The department has earned an advanced life support designation, according to Fire Chief Randy Griffin, which means firefighters have received training as advanced emergency medical technicians or served as paramedics before.
(Other departments) provide splinting, oxygen and things like that, but the majority of them are not advanced life support, which we are," Griffin said. "All of our vehicles are certified, and the other unique part of that is all of our providers — our street level providers — are all advanced life support providers. That's different than Watertown, Auburn, Syracuse and any other fire department around here."
According to an internal OFD study, out of 80 sudden cardiac arrest cases in the Port City outside a hospital setting, 22 individuals, or 27.5 percent, were successfully discharged from Oswego Hospital or transferred for further treatment at other facilities.
In contrast, the American Heart Association's national data suggests only 10.8 percent of cardiac arrest incidents outside a hospital setting result in survival situations.
Griffin noted the department follows American Heart Association (AHA) advanced cardiac life support guidelines, which include a "Chain of Survival" that aims to "provide stakeholders with a common framework with which to assemble an integrated resuscitation system."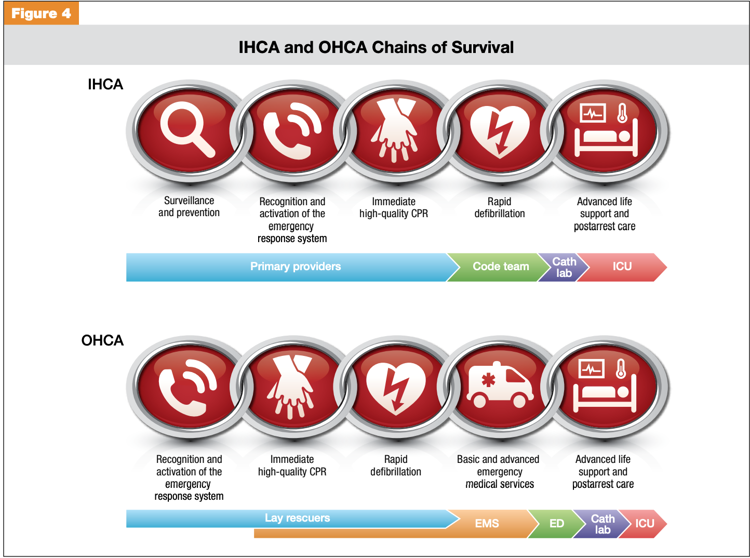 According to a report from the AHA, the chain is divided into five steps; recognition and activation of the emergency response team, immediate CPR, rapid defibrillation, emergency medical services and life support and post-arrest care.
"In the city of Oswego we have all of those things," the fire chief said, noting his department trains an average of 75 individuals in CPR each year. "If we get people to call 911 fast, then if people are trained in the use of CPR and an automatic external defibrillator (AED) — and we have AEDs around the city — all of those things together add up to a good survival rate." 
Griffin added the department has doubled down on cardiac arrest safety and partnered with Oswego Hospital to compile a study of how the department has fared in survival rate for cardiovascular incidents in the last five years.  
"We're very proud of the services we provide and I like to make decisions based on data," Griffin said. "By having this data, it allows us to make good decisions about operations and the way we do things. My job is to protect life and property so I'm looking at what hurts and kills people. What are those things? And how do we help to alleviate that?"
Griffin said state certified equipment and vehicles are a contributing factor to the high survival-to-discharge rate.
"All staffed apparatus are certified by the state's health department as advanced life support vehicles, including Marine 1, the only public safety vessel on the eastern shores of Lake Ontario to carry that designation," he said.
Another element that contributes to the success rate, Griffin said, is the department's city-wide AED program.
Every school in the city, as well as every skating rink and public pool, has an AED on hand, according to Griffin and the automated defibrillators are becoming "more ubiquitous" due to their accessibility.
"It turns on by itself and you place the patches where it tells you to," Griffin said. "Then it tells you the steps to go through so anybody can be trained in the use of an AED."