OSWEGO — Federal officials are seeking public input on the proposed national marine sanctuary in the southeastern waters of Lake Ontario, and locals can provide recommendations tonight at a 6:30 p.m. meeting at the Lake Ontario Event and Conference Center. 
The National Oceanic and Atmospheric Association (NOAA) recently entered the designation process for the proposed 1,700-square-mile Lake Ontario National Marine Sanctuary, which would protect more than 20 known shipwrecks. NOAA accepted a nomination for the marine sanctuary in March 2017, and in April announced the start of a multi-year designation phase, which includes scoping and a public comment period.
As part of the designation process, NOAA is hosting a series of meetings this week — one in each of the four counties in the proposed boundaries — including tonight's 6:30 p.m. summit in Oswego. The first of four such meetings was held Monday night at the Fair Haven Fire Hall, with another held last night in the town of Lyons.
Oswego County Administrator Phil Church — who spearheaded the four-county nomination process with Cayuga, Jefferson and Wayne counties — said anyone who has an interest in, or usage for, Lake Ontario should consider attending the meeting to learn more about the process and provide input as NOAA officials formulate the sanctuary proposal.  
"Property owners, educators, history buffs, divers, sport fisherman—I'd like everybody to learn what this is really about," Church said when asked who should attend the hearing. "NOAA is here giving people an opportunity to learn about this firsthand and participate in what it will become." 
Church said the marine sanctuary nomination is worth considering with an open mind, adding officials would like individuals to engage in the process rather than form opinions on the proposal based on misinformation or rumor. Church said NOAA's designation process provides the opportunity for significant public input, and everyone in the community could play a role in the formulating the final proposal.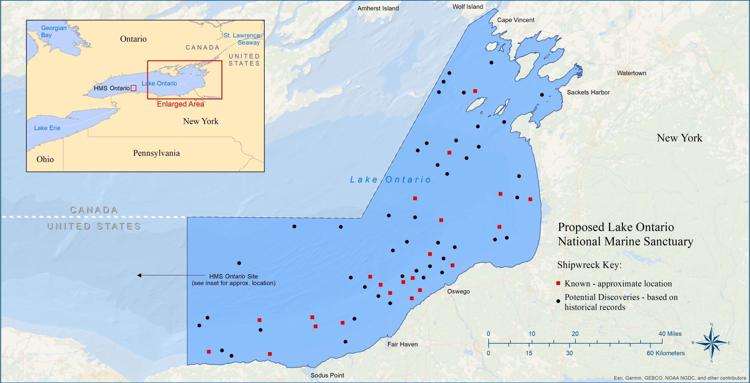 "Those of us who think it's a great idea and those of us who may have concerns, we all have a role to play," Chruch said. "Because if we have a sanctuary here, it has to be a sanctuary that's accomplishing what you and your communities want it to accomplish." 
Ellen Brody, Great Lakes regional coordinator for NOAA, presented attendees at Monday's meeting with an overview of the marine sanctuary system and described the potentially two- to three-year process the proposed Lake Ontario National Marine Sanctuary would go through before receiving a final designation.
The national marine sanctuary system represents "some of our nation's most spectacular underwater treasures," Brody said, adding becoming part of the 600,000-square-mile system would be "an extraordinary recognition."
As part of her presentation, Brody noted the public would have ample opportunity to provide ideas and feedback — something she said the agency "truly values" — to NOAA throughout the designation process to create a unique sanctuary that reflects the local community. 
"Every sanctuary is different because every place is different," Brody said Monday. "The way we set up, design and implement sanctuaries depends on that place. It depends on the resources that we're protecting and the communities that we're working with."
National Maritime Heritage Coordinator Joe Hoyt also addressed the crowded Fair Haven Fire Hall Monday night and said resource protection is the ultimate objective of the marine sanctuary system, but noted officials strive for compatible and sustainable use.
"Sanctuaries are focused on protecting special places and this is clearly a special place," Hoyt said, speaking about the many reasons Lake Ontario is unique and deserving of a sanctuary designation. "We're just starting the process of engaging with this area, this community and these resources, but the nomination package we received outlined just incredible resources that are here."
Lake Ontario, Hoyt said, stands apart from other Great Lakes as a "truly unique place," due to its geographic location and historical advantages. He pointed out the shipwrecks in Lake Ontario are much older than shipwrecks in other Great Lakes because the area saw significant nautical travel earlier than the others.
"It was an area that for 10,000 years, really since the end of the last glacial maximum, that communities lived here and built their lives here," Hoyt said. "And much later this was the first place during the colonization of this continent where the rest of the world got to learn about the wonder that is the Great Lakes."
Each individual shipwreck has its own story, Hoyt said, and wooden shipwrecks in the Great Lakes are preserved better than many other places due to the cold, fresh water. Many shipwreck sites are inaccessible to divers and have never been dived by anyone before, Hoyt said, noting the level of preservation is expected to be significant on such sites.
"It's unbelievably unique," Hoyt said, noting wooden shipwrecks in the ocean are often "a pile of rubble," but in the Great Lakes divers can see ships "in their grandeur."
Several years ago NOAA opened the national marine sanctuary nomination process for the first time in two decades, providing an avenue for the Lake Ontario National Marine Sanctuary to be considered. Church said the opening of the nomination process sparked local municipalities and agencies to form a task force, which he led, and ultimately submit a national marine sanctuary nomination for portions of Lake Ontario. 
Church, who started diving on shipwrecks more than 25 years ago, said the proposal for him is a recognition that Lake Ontario stands among some of the nation's other maritime treasures. In the past, he traveled to other areas in the Great Lakes, he said, and saw charter operations and buoying operations, and would come home and question why similar undertakings couldn't be installed in and around Oswego County.
Many national marine sanctuaries are environmentally focused, Church said, but the proposed Lake Ontario sanctuary is centered on shipwrecks, which range from 1780 to 1954, and maritime heritage.
The local marine sanctuary task force adopted several goals as part of the nomination, Church said, with the preservation of the region's submerged maritime heritage resources at the forefront.
"We preserve and protect historic buildings all the time because they tell a story of where we came from and they're part of our story," Church said. "We should do the same with those that are submerged and preserved from centuries past. 
Another important part of the task force's proposal, according to Church, included the declaration that a marine sanctuary would ultimately "not impede on commercial or recreational uses of the waters."
"We made it clear in the nomination we didn't want interference with the Port of Oswego Authority and their shipping lanes and dredging," Church said. "Sport fishing as you know, that's us, we are the sport fishing capital of the northeast. We do not want to bring in something new that's going to limit something wonderful we already have. We want it to enhance it and be another part of what we have to offer."
Church said a marine sanctuary wouldn't likely mean thousands of divers would flock to Oswego County, but the tourism impact could include families and individuals who are "fascinated by the subject" of maritime heritage and shipwrecks. Church noted presentations given in elementary school classrooms and "even in unruly classrooms when (he) talked about shipwrecks (he) had their attention."
Some shipwrecks are within the recreational and technical diving limits, Church said, and though many are not, they exist in what he described as "the exciting realm" of remotely operated underwater vehicles and research expeditions. Church noted there are also several aircraft in the proposed marine sanctuary waters.
Brody said with the designation process just beginning, NOAA officials have a lot to learn from the local community, and would listen to public input and consider it when drafting the sanctuary proposal.
Following the completion of the draft proposal, which is expected in about 18 months, Brody said the community would have another opportunity to provide feedback and comments. If designated, an advisory council would be formed with stakeholders from various local industries and interests.
Community members can comment or make suggestions on any portion of the proposal, but NOAA officials are seeking answers to six specific questions, ranging from the spatial extent of a potential sanctuary to possible names.
Following tonight's 6:30 p.m. meeting at the Lake Ontario Event and Conference Center, the week's fourth and final public meeting on the marine sanctuary proposal is scheduled for Thursday at 6:30 p.m. at Jefferson Community College in Watertown. 
Individuals can find more information on the marine sanctuary proposal, or submit comments online at https://sanctuaries.noaa.gov/news/press/lake-ontario/. The public comment period ends July 31.
The Lake Ontario Event and Conference Center is located at 26 E. 1st St. in Oswego.