Local teens enter military 'from the ultimate high ground'
MEXICO — Eight Oswego County students were a part of a nationwide oath of enlistment ceremony led by U.S. Army Col. and NASA astronaut Andrew Morgan from the International Space Station Wednesday afternoon.
The eight students at CiTi BOCES in Mexico were among nearly 1,000 people in 150 locations tuned into the stream with Morgan. Held by the Syracuse Army Recruiting Company and the Oswego Army Recruiting Station in partnership with NASA and Space Center Houston, Wednesday was the first time live enlistment ceremony from space.
"Before I took this nine month journey to space as an astronaut, I was a soldier first," Morgan, a former Army colonel told the future warriors. "I made the decision when I was 18 years-old to raise my right hand just like you're about to. I'm still a soldier, I'm just serving in space on the ultimate high ground. I'm here as a direct result of the incredible opportunities I had in the Army and I'm a soldier through and through."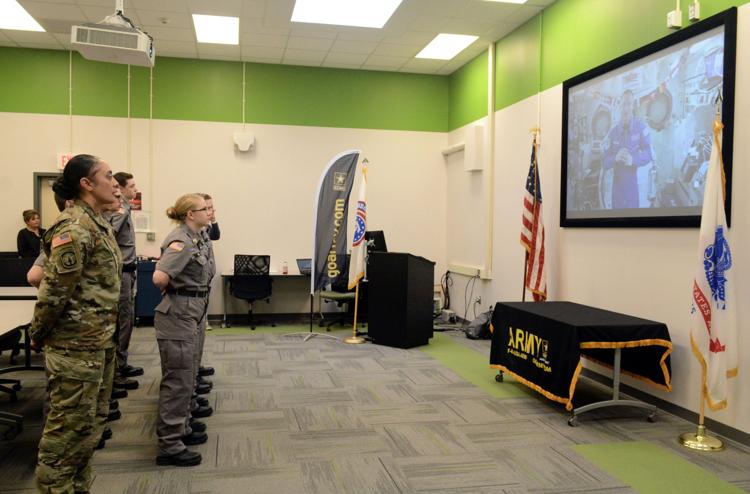 Oswego's Sarah Cory and Noah Kyboult took the oath, along with G. Ray Bodley High School's Zachariah Woodmancy and Corey Holden, Paul V. Moore High School's Taylor Fisher and Dominick Boyke, John C. Birdlebough High School's Jacob Wright and Pulaski's Zackery Babcock.
While the other seven are joining the Army, Holden is enlisting in the Marines. The senior joined the armed services because he wants to serve his country and he hopes to eventually become a police officer.
For Holden, having Morgan lead the ceremony from space helped illuminate the wide variety of career options the military will prepare him and the rest of the recruits for.
"It's really special, because that's one job I never knew you could ever do," Holden said.
After the oath was completed, Morgan held a short question and answer session with enlistees. He closed by saying the enlistees decision to serve their countries will change their lives forever.
"All of you have started an exciting journey that begins today and I'm so proud of you and your decision to serve," Morgan said. "I'm humbled to be able to share this experience with you. This will certainly be one of the greatest memories of my time here … on the space station."