Hometown Republican served 14 years as city's executive, nearly 30 in public office
FULTON — Former Fulton mayor Ron Woodward Sr., who led the city through some of its toughest times over his 14 years as its executive, died Thursday, a little more than a year after leaving office.
Woodward started a nearly three-decade career in public service as Sixth Ward alderman in 1982, and served multiple terms on the city council before becoming mayor for the first time in 1986. Woodward returned to the mayor's office in 2004 as an executive assistant, and then mounted a successful election campaign in 2008 that would be the start of a decade-long run as Fulton's leader.
Throughout his time as mayor, Woodward oversaw reductions in the city workforce and a myriad of other cost saving measures, and always cared deeply about Fulton and its residents and held an optimistic view of the city's future. There were plenty of positives in Woodward's time in office, including the development of the Indian Point recreation area, the demolition and redevelopment of portions of the former Nestle site and the start of a massive dredging endeavor to clean up Lake Neatahwanta.
Remembrances of the former mayor, and condolences for his family and friends, poured in Thursday night and Friday from former colleagues and even political opponents, who applauded Woodward's many years of dedicated service to his city.
"I am sorry to hear of the mayor's passing," said Assembly Minority Leader Will Barclay, R-Pulaski, who represented the city of Fulton in the state Assembly throughout Woodward's time as mayor. "There is no doubt he'll be remembered for his dedication to Fulton and passion for serving the community during a challenging time. He will be missed and my condolences are with his family at this time."
Fulton Mayor Deana Michaels, who succeeded Woodward as mayor in January 2020, said city officials would work with Woodward's family to find a way to honor the longtime leader's service to the city and community that he loved, adding details regarding the city's dedication would be announced in the near future.
"Mayor Woodward served the city of Fulton for many years and did so selflessly with dedication, with passion and with heart," Michaels said. "I am personally honored to have had the opportunity to work alongside the mayor and learn from his wealth of knowledge of the city. He will be missed by so many."
State Senator Patty Ritchie, R-Heuvelton, in a statement to The Palladium-Times said she joined the Fulton community in mourning Woodward's death, calling the former mayor "a dedicated servant who devoted his life to serving the city he loved." Ritchie extended sincere condolences to his family, countless friends and the entire Fulton community.
"Mayor Woodward set an example of service for others to follow," Ritchie said. "I consider myself lucky to not only have worked with him, but also to call him a friend. His passion for improving the city of Fulton was second to none and I know that for generations, we will continue to see the impact of his tireless work."
Rep. John Katko, R-Camillus, who has represented Fulton and the surrounding area in Congress since 2015 and helped secure federal funding to aid Woodward's effort to demolish the former Nestle site, offered his condolences to Woodward's family, friends and the Fulton community in a Friday interview, and called the former mayor "a great leader in his community."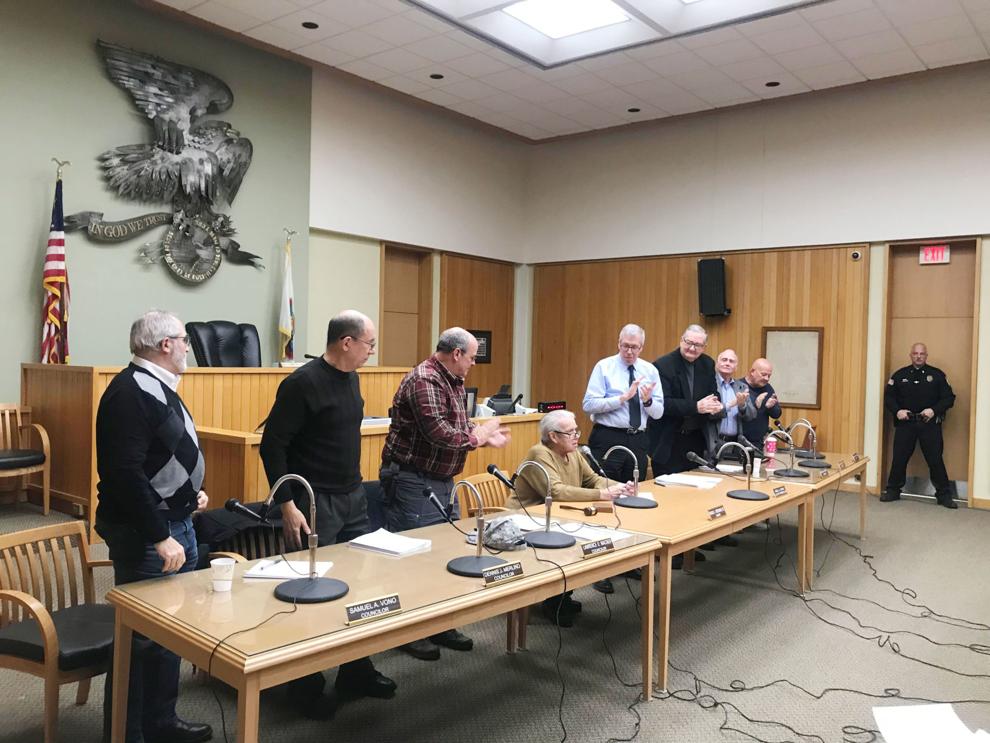 Fulton Common Council President Audrey Avery, R-4th Ward, said she was deeply saddened by Woodward's passing, and offered her sympathies and prayers to his wife and family.
"He was a lifelong beloved friend, ally and confidant," Avery said of the longtime mayor. "As mayor, his door was always open to our community. (He) had the most down to earth attitude and was always a gentlemen. He will be truly missed by myself and our city that he adored."
Prior to the end of his final term as mayor, Woodward called his time in office "a privilege" and expressed gratitude for the many years of support from city residents, adding he "did the best (he) could for them." Woodward was a leader from a bygone era, and as mayor frequently dismissed social media critics and shunned Facebook and Twitter, which many of his counterparts had embraced, in favor of face-to-face discussion.
Sitting down with The Palladium-Times in December 2019, just days before he would leave his City Hall office for the final time, Woodward said it was difficult to pinpoint all the highs and lows experienced during his decades in public office. The former mayor, however, said he always tried to be honest and fair, and the rest would work itself out.
Woodward, who openly offered his opinion on just about any topic and often sparred publicly with naysayers, stepped in as Fulton's leader following the closure of the Nestle plant and during the shuttering of the Birdseye plant, which combined cut deeply into the city's tax base and forced significant spending cuts. When things got tough, Woodward stood up for Fulton and its residents, and didn't back down from a fight if winning it might benefit the city.
"I've seen a lot of good times and bad times, too," Woodward said after presiding over his final Fulton Common Council meeting in December 2019. "I always tried to stick it out and not to abandon the ship when it got hard."
City Councilor Tom Kenyon, C-1st Ward, said Fulton lost a wealth of knowledge with Woodward's passing, noting the former mayor served the city in numerous capacities over parts of four decades. Kenyon, who served alongside Woodward for more than a decade and once challenged him in a mayoral race, said Woodward's office door was always open to anyone.
"It didn't matter who you were, rich or poor, his door was always open," Kenyon said. "He loved the city and he would always listen. He took care of people right away and solved problems for them."
Former county legislator Frank Castiglia, who was a staple at city council meetings during Woodward's time in office and frequently sparred with the mayor over various issues, said though the two didn't always see eye-to-eye, the one thing the pair had in common was a desire to see the city improve. Castiglia said the two butted heads on many occasions, but eventually developed a mutual respect and realized they shared a desire to do what was best for the city.
"One key thing with (Woodward) is he let you say what was on your mind in front of the common council," Castiglia said. "He never stopped anyone from doing that. Even if you were against them, he still let you bring it forward."
Castiglia said the former mayor did the best he could with what he had, and likened Woodward's time in office to "running a city that was running on empty."
"He didn't have a war chest to run the city that all the other mayors had," Castiglia said. "He didn't have the big industry and all this different tax money coming in, but he did what he could do with what he had."
Fulton Councilor Don Patrick, D-3rd Ward, in a statement on Facebook, said Woodward's love for the city of Fulton was contagious, and played a role in his own run for city council. Patrick said the former mayor was "down to earth" and took the time to speak to anyone who walked into his office.
"Over the years (Woodward) made many difficult decisions for the city that most would shy away from, and he always did what he thought was in the best interest of the city and its residents," Patrick said.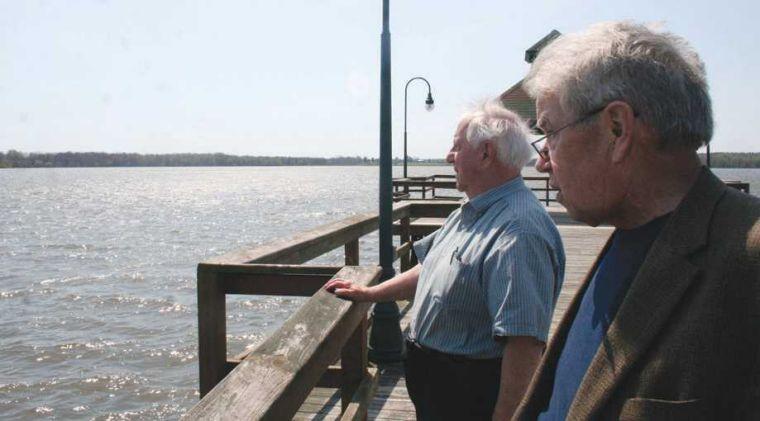 Married for more than 50 years, Woodward has three adult children who were raised in the city of Fulton and several grandchildren. Prior to entering politics, he worked as a machinist and a tool and dye maker, building and repairing machines at Black Clawson, Fulton Tool and Nestle.
Perhaps the biggest changes in his nearly 30 years in public office were the closure of the Nestle and Birdseye factories, Woodward said at the end of his term as mayor, noting "those were a huge hit on the city" in terms of the number of jobs provided to the community and the property taxes and other fees paid to the city.
Woodward oversaw a significant reduction in the city workforce and helped to stabilize Fulton's finances amid a number of financial hits and the global recession of the late 2000s. Several of the moves made during that time are what Woodward called some of the major accomplishments of his time in office, including the city's annexation of its own wastewater treatment plant which was located in the town of Granby, resulting in the city freeing itself of more than $100,000 property tax bill each year.
The city always made it through the tough times by working together, Woodward said, noting "there's nothing you can't do if everyone works together."
Woodward cited the demolition of the former Nestle site, which started in 2016 and after several setbacks was largely completed in 2018, as another major accomplishment of his time in office. The longtime mayor, who was employed by Nestle for many years, saw the bittersweet demolition of the city's most iconic buildings as a necessity, often saying if not torn down it would continue to hold the city back for years to come. In addition to being a largely unusable space along one of the city's busiest corridors, Woodward said the buildings had become a liability and a danger to the public.
"If we hadn't done that it likely would've sat for another 20 years," Woodward said while preparing to leave his office in 2019. "And now it's being redeveloped and I think you'll see the development of that site keep going."