Joined by attorney general, governor pledges support for upstate communities as flooding persists
OSWEGO — Gov. Andrew Cuomo visited Oswego Thursday to announce a plan devised to boost tourism for municipalities in the Lake Ontario region.
Local leaders were present for a press conference at the Port of Oswego Authority, where Cuomo laid out a plan focused on strengthening tourism for localities around Lake Ontario, including those affected by high water levels brought on by the Great Lake. Cuomo unveiled free fishing licenses and discounts at regional state parks, from now until early September, as part of a plan to assist local communities suffering as a result of high water levels. 
Cuomo called Lake Ontario "a masterpiece," noting its qualities as a tourist destination are "second to none" and those of a "story that is not as often told." 
"So, in the midst of what we are dealing with we want to promote tourism in upstate New York, especially around Lake Ontario," Cuomo said. "And because of the situation and the hardship that had been created, the state is going to do a number of things to increase and incentivize tourism in the area." 
The state's efforts include waiving the fishing license fee for angling in Lake Ontario, the St. Lawrence River and the lower Niagara River through Sept. 2, according to the governor, who earlier in the day went on a Lake Ontario fishing trip with New York State Attorney General Letitia James. Cuomo and James reeled in a pair of King Salmon during their trip. 
Cuomo also said fees for vehicle entrance and camping at state parks in the region will be reduced by 50 percent during that same time period.
Regional parks that will be discounted include Mexico Point boat launch in Mexico, Sandy Island Beach in Pulaski, Selkirk Shores in Richland, Chimney Bluffs in Wayne County, Fair Haven in Cayuga County, Fort Niagara in Niagara County, Hamlin Beach in Monroe County and Westcott Beach in Jefferson County.
Cuomo said the long-running "I Love NY" ad campaign will start running a new television commercial to promote the region. The ad features sights from Oswego County, including the H.Lee White Maritime Museum in the Port City.
The ad will air across Northeast America and parts of Canada, which Cuomo called the region's "prime tourism market."
State representatives praised the tourism plan.
"By taking steps to boost tourism and promote travel to Lake Ontario, New York is ensuring that Lake Ontario communities will be open for business," Assemblyman Will Barclay, R-Pulaski, said in a statement. "I applaud Governor Cuomo for launching this new campaign, which will surely be a game changer for our region."
Sen. Patty Ritchie, R-Heuvelton, highlighted fishing as one of the more attractive activities for tourists in the region.
"Today is an important step in leveraging all Lake Ontario has to offer, including the incredible fishing." Ritchie said in a statement. "Lake Ontario is an enormous asset for economic growth along our lakefront communities."
Earlier this year, the governor announced the Lake Ontario Resiliency and Economic Development Initiative (REDI), which called for local leaders in communities affected by flooding to detail a plan that would help rebuild infrastructure and properties damaged by the high water levels.
The state is dedicating $300 million in funds to help these communities rebuild and to keep an eye toward the future.
"This is not the last high level," Cuomo said during Thursday's presser. "And let's assume this is a new normal and let's build to deal with that new normal." 
Cuomo said the state learned from the 2017 rebuilding efforts, when communities adjacent to Lake Ontario also suffered from flood damage due to high water levels, and decided to make a more significant, long-term investment in the shoreline. 
"The legislature agreed that we can spend $100 million every time there is an emergency and do that every two years, or we can actually invest $300 million and make it more resilient and do economic development at the same time," Cuomo said, noting the 2017 rebuild required more than $100 million in recovery funds.
The city of Oswego is one of the communities set to apply for REDI funding, and applications are due today.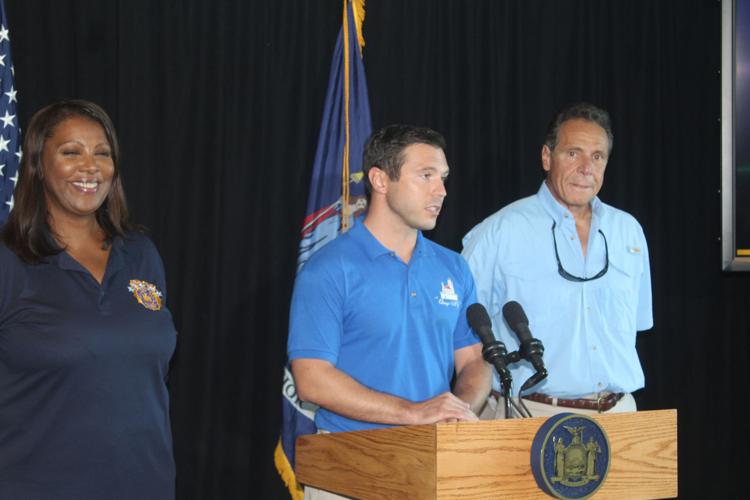 "We are prepared to capitalize on the REDI application and the governor stepped up and helped us in allocating resources to deal with the high water," said Oswego Mayor Billy Barlow who was also at the press conference. "Not only repair some of the damages but he is committed to building up our waterfront better than ever before. We appreciate his continuous commitment to highlighting Oswego."
The governor also announced Thursday a $5 million investment for the Salmon River Fish Hatchery in Pulaski, which he said has been doing an "extraordinary job" in producing species found in Lake Ontario. Cuomo said the investment would "reap dividends" for the local economy. 
Eco-tourism is another avenue of revenue the governor said the state wants to explore, adding it is a "growing market."
"All the data shows it and all the anecdotal experience shows it, so we're going to be doing that as well," Cuomo said, noting the state will pledge $75,000 in grants to help the village of Sodus Point and Sandy Pond Beach to develop eco-tourism. 
The Environmental Finance Center at Syracuse University will receive a $24,999 grant in order to provide assistance to Sandy Creek officials to implement "ecosystem-based management" within existing plans and "developing a planning strategy" for the north and south Sandy Pond watersheds.
"Between the long-term reconstruction, economic development, resiliency work, increasing the tourism dollars and tourism activity, now we think we're doing everything we can to help the region, and I'm very proud of it," Cuomo said.