'I love what the SUNY schools represent'
OSWEGO — Winston Duke wants to show students what is possible.
The actor who starred in "Black Panther," "Us," and two Marvel's: Avengers movies, discussed various topics such as perceptions based on looks, his upbringing in Trinidad and Tobago, and how being on stage helped him acclimate to life in the United States during his keynote speech at the 31st annual Martin Luther King Jr. Celebration inside the Waterman Theatre at SUNY Oswego Wednesday.
"It's important to have events like these on college campuses because it shows students from a variety of different backgrounds what's possible," Duke told The Palladium-Times. "A lot of you guys aren't in very close proximity or have family members in close proximity to a large array of different jobs and paths in life, and it's really good that someone can come and say 'Hey, you can do this.'"
A University at Buffalo graduate who went on to earn his masters of fine arts at the Yale School of Drama, Duke thought it was important to return to another SUNY school to spread his message.
"I love what the SUNY schools represent and the kind of opportunity you guys give to young people from all over New York — to get a great education, to get away from home and to come into self-realization," Duke said. "When the opportunity to come to Oswego happened, I was like, 'I've got to go. I've got go show off to my people and show love to my SUNY folks.' I had to come."
In a sit-down interview with assistant professor Mya Brown, Duke spoke about his background: born in Trinidad and Tobago, he was inspired by the local folklore and storytelling from a young age.
Duke's journey then took him to Rochester, where he said theater helped him grow as a person and build confidence, as well as help him with other school subjects. Despite being told by a counselor "college isn't for everyone," Duke went on to study archaeology and anthropology before switching to full-time theatre.
Duke's tale of the tape (6'5", 285 lbs) gave him insight into the struggle individuals of all ethnicities face based on their size, gender and race.
"You should never, ever be seen as just one thing," Duke told the crowd. "It's good to be seen as attractive, but you should also be seen as proficient, as smart, as capable, as intelligent, as emotionally aware and sensitive."
Brown asked Duke about the night's theme of "Where do we go from here: chaos or community" and what Martin Luther King Jr.'s impressions would be of the nation's state.
While there's still room for progress, Duke pointed to the simple yet powerful everyday example of people from different races and genders were sharing seats next to each other without thinking about it.
"People always say the world hasn't changed, but I think if Martin Luther King was here today, he'd think a lot has changed," Duke said. "He would actually see — if he came back right now — the impact. What I think he'd be dissatisfied with is how his message has been reappropriated to serve commercial interests and the interests of corporations. … I also think he'd recognize the progress that's been made and we all need to recognize the progress that's been made because once you recognize that progress, you can also recognize the levels of freedoms you have today that others didn't have."
The night, hosted by Oswego senior Lauren Robinson, also featured a reading of "Occasion" by Alpha Phi Alpha President Donti Deer, a performance of "Ask the Watchmen" by the State Singers, a welcome from Student Association President Takeena Strachan, a performance of "Ride on King Jesus" and "Open My Mouth" by the SUNY Oswego Gospel Choir, a reading of Letter from Birmingham Jail, and Kamal Morales giving the history of the Black National Anthem and leading in "Lift Every Voice and Sing."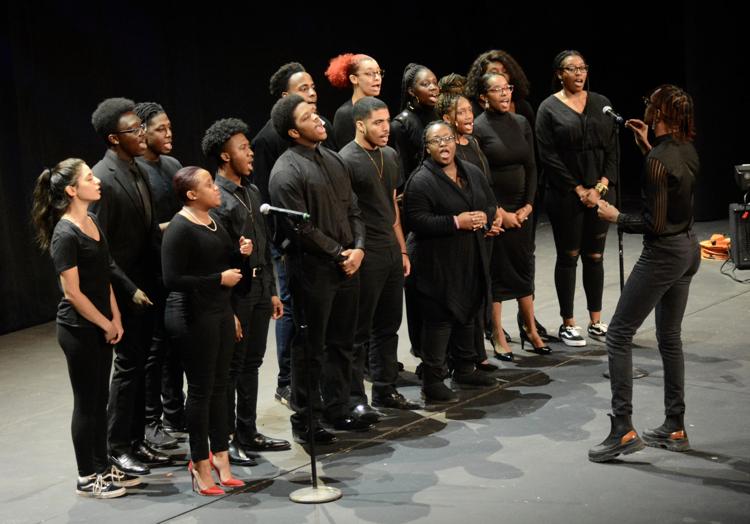 SUNY Oswego President Deborah Stanley ended the evening by taking the stage and thanking Duke participating in the annual MLK celebration.
Duke said he hopes he was able to impart to students that every person has their own path.
"Honestly, when I do these speeches, I try to demystify the path forward," Duke said. "I want them to know that there isn't any one direction. There isn't any one answer. There isn't any one real thing, you know? I always say 'No one knows anything in this world. So they definitely can't know your path or your future.' You can do anything you want."