OSWEGO — A ban on non-essential travel in the city Oswego is part of a series of actions that go into effect Friday in an effort to improve social distancing and stop the spread of COVID-19. 
Oswego Mayor Billy Barlow announced the ban on non-essential travel Thursday, along with the closure of all city playgrounds, marinas and other public amenities. Barlow said city residents "need to do better" when it comes to social distancing, and the actions are aimed at encouraging and supporting social distancing in public places, including parks and stores. 
"We're seeing a gradual uptick in cases countywide and the reality is there's more cases, I'm sure, than we know and as tests come back that number will gradually continue to increase," the mayor said at a Thursday press conference at the Oswego Fire Department. 
The aptly named City of Oswego Stop the Spread Stay at Home Order bans mass gatherings, parties and get-togethers of any kind or size, non-essential travel and non-essential outdoor activities in the city of Oswego. Barlow's order also calls for essential shopping only, maintaining a distance of six-feet between others in public and shutters all city playgrounds and other public amenities, including the Wright's Landing and International marinas.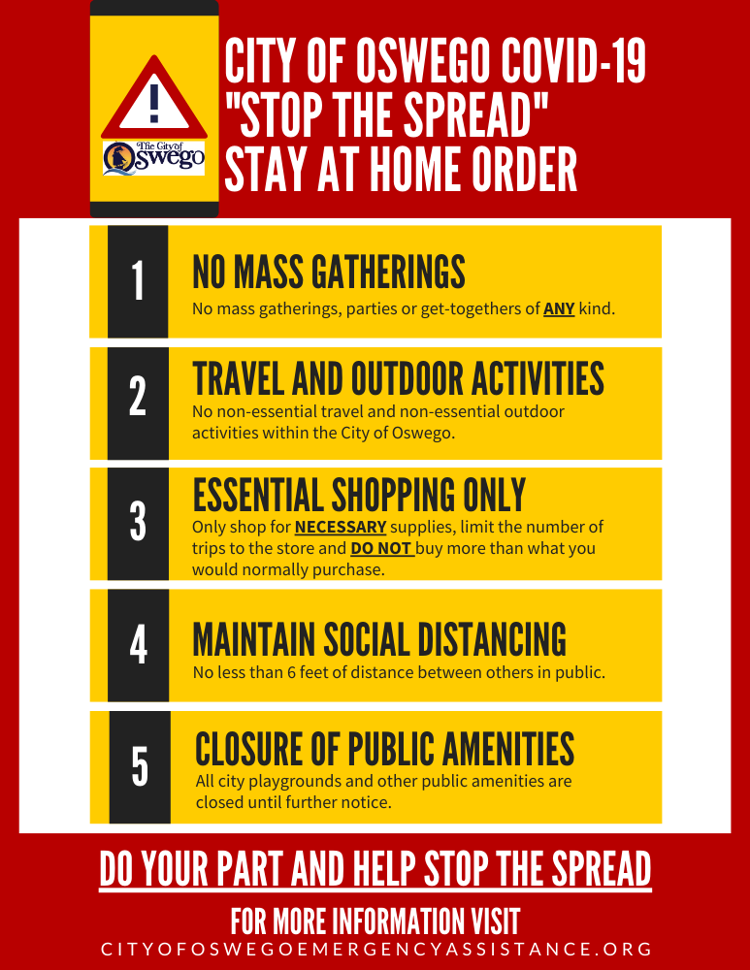 Barlow expressed appreciation and gratitude for those in the community who are cooperating and abiding by social distancing guidelines, but said there are still too many individuals who are not. 
"We need to do better and we can do better," Barlow said. "Despite all the changes we've made so far we still continue to see people out travelling, going into stores and acting like everything is alright. Everything right now is not business as usual. We shouldn't see as many cars on the street as we're seeing. We shouldn't see people walking around like we're seeing. We shouldn't see people going to Wal-Mart and Price Chopper every single day like it's a family outing and acting like everything is okay." 
Barlow and Oswego County Legislature Chairman James Weatherup, R-Central Square, strongly urged the community to take social distancing seriously and stressed the importance of stopping the spread of the virus. 
"This virus doesn't know the difference between the town of Oswego, the city of Oswego or the county of Oswego," Weatherup said, pleading with the public to practice safe social distancing. "I can't make it serious enough that we need to distance ourselves, we need to wash our hands, cough in your elbow and be six feet away." 
More than 20 cases of COVID-19 have been confirmed in Oswego County, with at least one case in the city of Oswego. Barlow, however, said the coronavirus crisis "isn't about the numbers," but about the people. He said governments at every level need to step up to protect people. 
"That's why the additional measures I'm announcing today are necessary and appropriate," the mayor said on Thursday. 
Barlow has continually said much attention has been placed on larger, urban communities with dense populations, but called smaller communities such as Oswego "just as vulnerable."
"Because we're a smaller, tight knit community we all use the same schools, we all use the same grocery stores, we all go to the same Wal-Mart, we travel on the same roads, we go to the same restaurants and we use the same public amenities," Barlow said. "That's why it is so important to take social distancing so seriously." 
The first case of COVID-19 in the city of Oswego was announced last weekend, and health officials have said the virus is now spreading among community members, unlike the first handful of cases in the county which were all travel-related. 
Barlow said with community spread now a reality, residents should take social distancing much more seriously.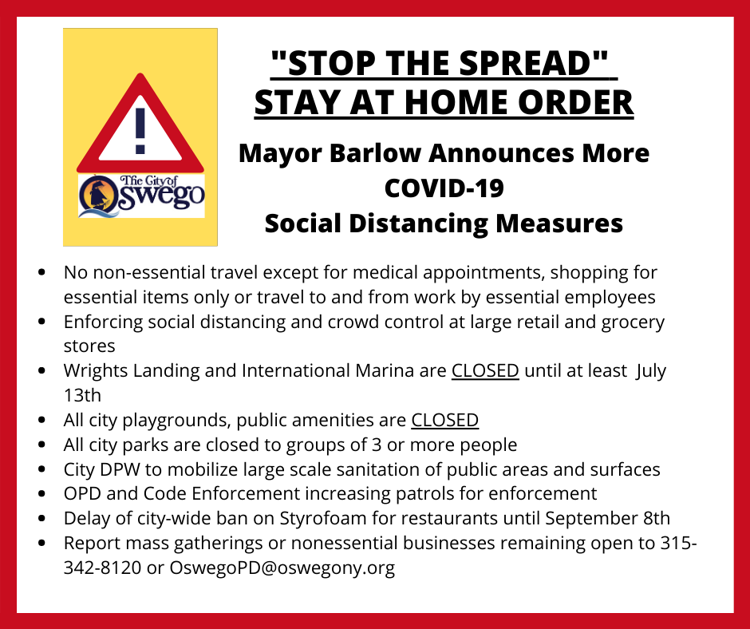 The Stop the Spread Stay at Home Order is "essentially a local travel ban," Barlow said, explaining individuals should not be travelling unless they are an essential employee going to and from work, going to a medical appointment or getting groceries or shopping for essential items. 
"You really should only be going to the store because you absolutely have to get important items," the mayor said. 
In addition to the restrictions on individuals, Barlow's order implements a number of regulations on businesses to protect employees and customers. Many small businesses are abiding by the current regulations, Barlow said, but noted further measures need to be put in place. 
Barlow's order calls for large stores, such as Wal-Mart and Price Chopper, to implement one-way aisles, maintain a six-foot distance between individuals in checkout lines, install protective shields and abide by rules limiting capacity. 
The latest policies related to public spaces are aimed at keeping the parks and other spaces open while also encouraging social distancing, Barlow said, noting more public spaces could be closed if necessary.
"I'm doing my best to not do an outright closure of parks," he said. "I'd still like people to have that one little slice of normalcy."
The city's Wright's Landing and International marinas, along with the city pool, are closed until at least July 13, Barlow said, but the city's boat launch at Wright's Landing Marina will remain open at this time. Oswego City Hall is also closed, but Barlow said residents can make payments through the mail or over the phone.
Anyone needing assistance related to city business can call 315-343-4990. 
The Oswego Police Department (OPD), Oswego Fire Department (OFD) and city code enforcement officials are all in a position to implement and enforce the policies announced on Thursday, Barlow said, adding the city prefers to educate people and has developed flyers to handout. 
If individuals refuse to comply with the orders, Barlow said authorities have the power to issue disorderly conduct charges. Weatherup noted local, county and state officials, along with local code enforcement officers, also have the authority to enforce orders handed down by the state or county.
Barlow said charging individuals is "the absolute last thing" officials want to do, but the city would take those actions if necessary. He said city officials will "beef up patrols" outside retail stores and throughout the city starting tomorrow. 
Asked about the need to balance public safety with individuals' freedoms, Weatherup, who has overseen a number of similar county initiatives, said he initially struggled with the idea of limiting individuals' ability to move about the area freely, but said in the end "it's the right thing to do" and officials need to enforce the measures. 
Barlow said protecting the public is his first priority and top responsibility, and if he's accused of infringing on individuals' rights to visit stores as often as they'd like he is comfortable dealing with that accusation. 
"I want to know that when we get through this, and while we're going through it, that I'm doing everything we can," Barlow said, adding it's not irresponsible or radical to take these measures to protect public health. "I just don't consider any of it right now to be too extreme." 
Weatherup noted the orders are also temporary, adding "this isn't the rest of your life." 
Barlow was optimistic people would take the non-essential travel ban seriously and officials wouldn't need to put more measures in place, but said if necessary the city would continue to implement policies to stop the spread of the coronavirus. 
If the community practices social distancing properly, Barlow said the time frame for the policies would be reduced in the end. 
"Let's hunker down, let's do it right and let's get through this," the mayor said. "Social distance as much as possible. I know it's inconvenient, it's painful. We were cooped up all winter here in Oswego and the sun is shining. We want to get outside… let's stay in our homes, practice social distancing and do it right and hopefully we can have a summer to enjoy and we'll get through this."