Mayor outlines 2021 initiatives in Tuesday State of the City address
OSWEGO — The Port City weathered a challenging 2020 and will turn its focus toward recovery in 2021, Mayor Billy Barlow said Tuesday night at City Hall during his State of the City Address, in which he noted the state of the city is strong but rests on the city's ability "to beat and fully recover from the current health crisis."
The annual State of the City Address, typically delivered at a city council meeting each year, was not open to the public due to the COVID-19 pandemic but live-streamed Tuesday night on various platforms and aired live on the WBUC television station. Barlow, who is starting his sixth year in office, outlined a long list of objectives for the coming year — including continuing waterfront development, reducing costs for property owners and attracting new residents — but called the global pandemic the "biggest challenge yet" and a threat to all that the city has accomplished in recent years. 
"Many of our small businesses survived the shutdown, but the struggle continues," the mayor said. "We owe it to our small business owners, front line workers, friends, family and to ourselves to do the right thing, and the state of our city, rests on our ability to beat and fully recover from the current health crisis."
Barlow applauded and thanked front line workers, in and outside city government, for their efforts in combating the virus, and said they "deserve our utmost respect and appreciation." 
In part as a thank you and in part an effort to build on a 2018 resident recruitment initiative, Barlow announced plans to launch the so-called Heroes as Neighbors program, a partnership between city government and Pathfinder Bank that would cover the closing costs associated with the sale of a home in the city to front line workers, first responders and health care workers.
"It'll incentivize and encourage our first responders and health care workers to not only work here in Oswego, but to live here in Oswego," Barlow said, noting the program could be the difference between buying or renting, moving or staying put for some individuals and families. "We want and need more nurses, doctors and police officers in our community, as residents, making our community a better place." 
Attracting residents to the city has been a goal under the Barlow Administration, in addition to improving and beautifying neighborhoods.
Barlow on Tuesday said those efforts, including the strengthening of the city's code enforcement, would continue, and the city would do more to encourage homeowners to invest in their properties and make the city at large a more desirable area.
"We need to facilitate more investment, encourage more growth, and what better way to do that than to make it easier and more affordable to invest in your own property," Barlow said, announcing a proposal to reduce building permit fees by 50 percent across the board. "The nature of pulling a building permit is a positive action.  The activities requiring a building permit are activities we should encourage, like fixing a fence, repairing a facade, rebuilding a porch or replacing a deck."
A plan to reduce water and sewer fees, which Barlow promised back in 2019 when the council reduced the cost for flat rate users, was also unveiled Tuesday.  Barlow said with the city's decade-long, $56 million sewer separation project, which drastically reduces the potential for sewer discharges into the Oswego River and Lake Ontario, now complete, a proposal in the coming weeks would seek to reduce annual water and sewer bills by $100 for both flat rate and metered users.
"For many years, our residents were strapped with double-digit tax hikes and frequent fee increases," Barlow said. "Those days are long gone and as promised, we continue to offer financial relief to our homeowners the moment we find it responsible to do so."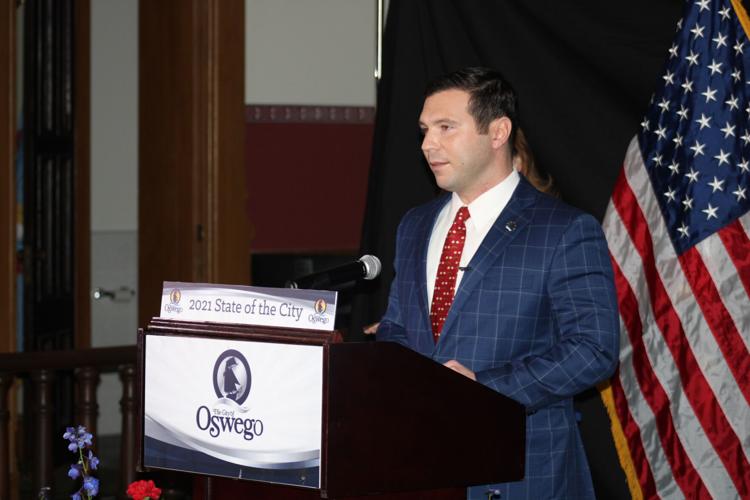 Completing the planned overhaul of the city's waterfront in the coming year would be a focal point as well, Barlow said, noting the city secured more than $16 million from the state Lake Ontario Resiliency and Economic Development Initiative, or REDI, and the Federal Emergency Management Agency for repairs and renovations to Wright's Landing, Breitbeck Park and the International Pier.
"Once completed, Oswego will be using the water as an economic tool and viable attraction like never before," Barlow said, noting the revamped Wright's Landing Marina would open June 1 with a new pavilion, remodeled restrooms and bathhouses, a welcome center and gift shop, marine fuel access, an additional fire pit seating area on the waterfront and wheelchair accessibility throughout. "Wright's Landing Marina in Oswego will be one of the premier marina's along Lake Ontario and will easily attract more boaters from the water and more pedestrians and residents from land."
The entire Wright's Landing area has also been raised roughly three feet to protect against future high water and flooding on Lake Ontario. Barlow said success along the waterfront would translate to success for the rest of the community, adding the renovations to Wright's Landing would "serve as an extra propeller" for the local economy.
In addition to Wright's Landing, the city is preparing to repurpose the International Pier, which Barlow has called a unique and underutilized asset that, with the proper use, has the potential to transform the city's waterfront.
"It is time to use this unique piece of property as a community attraction and economic asset," the mayor said, adding this spring the city would break ground on a $9 million project to repair and stabilize the pier before transforming the surface "from a gravel driveway to nowhere, to a pedestrian only, interactive boardwalk, complete with public dock access, more seating areas and community space for gatherings, events and different public activities."
For decades Oswego failed to fully capitalize on its waterfront and natural assets, the mayor said, but in 2021 that would change as the waterfront improvements combine to create "an attractive, desirable, impressive area along Lake Ontario" that adds value to the community and creates a travel-worthy destination.
Barlow on Tuesday also announced plans to name the International Pier after the late former mayor Bill Cahill. Cahill, who served the city from 1980 to 1987 and owned and operated Cahill's Fish Market, made Oswego a better place, Barlow said, particularly along the waterfront.
"We can honor his legacy by continuing to improve our waterfront," Barlow said. "To recognize, remember and honor Bill Cahill for the mark he left on our community, upon completion, we'll dedicate the new pier to him, bearing his name, a name so closely affiliated with our waterfront and city."
Construction on what will be called the Mayor William S. Cahill Jr. Pier is slated to break ground this spring and be complete in 2022, Barlow said, noting years from now residents would look back on 2021 as a turning point for the city's waterfront and "it is only fitting to mark this historic time with a nod to the past."
Barlow outlined a series of other initiatives for the coming year, including the city's participation in a state-mandated effort to reimagine policing, refurbishing the box lacrosse facility at Fort Ontario and further efforts to improve and streamline city services. 
Such an agenda amid the ongoing global pandemic is aggressive and optimistic, Barlow said, conceding it would be a challenge to pull off, but adding city government in recent years has been able to produce results.
"We need to make the most of the opportunity we have in front of us," Barlow said. "Anything else would be an injustice. We'll do this because it's what it takes to keep improving this community, enriching the lives of our residents and helping our neighbors."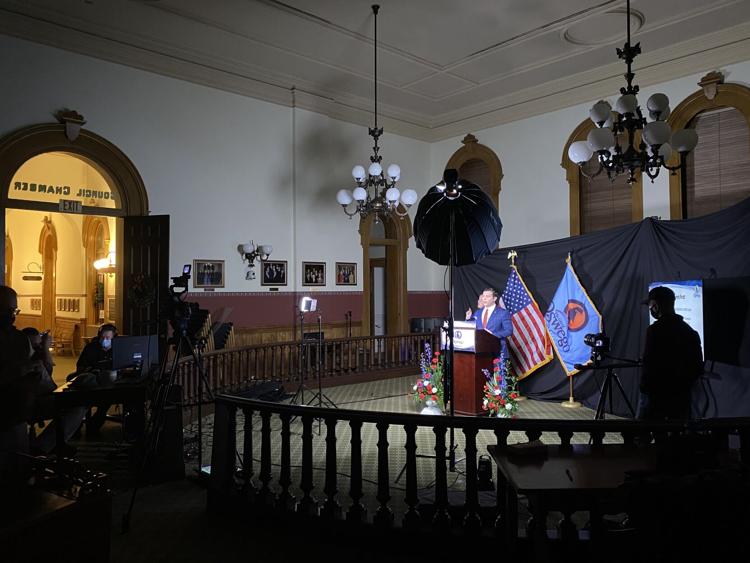 Prior to closing his address, Barlow touched on the events in Washington, D.C. last week, and said the images of rioters storming the Capitol Building shook his soul and "should serve as a wake up call to elected officials at all levels" and the public.
"I hope to never see anything like that again in my life," Barlow said. "No person who considers themselves an American can support what took place on Jan. 6."
Barlow said public service should be about improving the lives of residents and helping communities and neighbors, not dividing people. 
"America's greatest strength comes in the ability provided to us through the constitution brilliantly constructed by our Founding Fathers to think differently, to disagree, encounter gridlock, embrace diversity and continue to function, to flourish and still remain the United States of America," Barlow said. "Extreme difficulties come with being a democratic republic... but when it functions, and people respect each other, tolerate different views, consider others, and want what's best for the collective, anything is possible." 
Barlow said that's what Oswego has done in recent years, with people on both sides of the divides — the mayor and council, Republicans and Democrats, public and private entities, east and west of the Oswego River, old and young — all coming together to make the city a better place.
"While the federal government seeks to find its way in the coming weeks, let Oswego serve as an example of the good that comes when the main objective is to improve your community and better the lives of those around you," the mayor said. "This city has limitless potential, and we are unlocking more of it every moment.  All we have to do is work together, be positive, be confident, believe in ourselves, lift each other up and work hard to improve our city each and every day."